Chad Danforth and Ryan Evans is a friendship pairing in the High School Musical series. They didn't like each other at first, but during High School Musical 2 it is suggested that they became boyfriends.
High School Musical 2
After their song, I Don't Dance, during the second movie, they switch clothes which alludes to a different, more romantic type of relationship.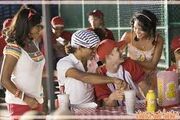 Gallery