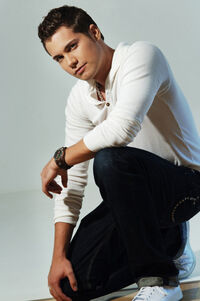 Drew Seeley is a Canadian singer and actor who has recorded many songs for the Walt and Disney Company. 
Biography
Drew was born on April 30, 1982 in Ottawa, Ontario.
High School Musical
He gained significant attention when it was revealed that his voice was blended with the voice of Zac Efron, who portrays the character Troy Bolton for the Disney Channel Original Movie High School Musical, in the movie as well as on the soundtrack. He was uncredited in the movie, however it was eventually revealed that he performed the majority of Troy's singing although Zac managed to sing the first few lines of two songs.
Seeley also sang in the HSM Concert, taking Efron's place as the latter was busy filming for Hairspray.
Present
Seeley has continued pursuing his music career and Zac did all of his own vocal work in both High School Musical 2 and 3.