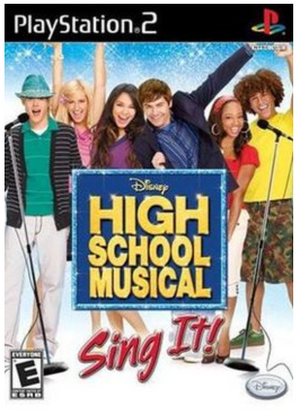 High School Musical: Sing It! is a karaoke game based on High School Musical frachise, released in November 2007 for the Wii and PlayStation 2. It is bundled with a branded microphone that plugs into the USB ports on the back of said units.
In the game, players are able to play as Gabriella Montez, Troy Bolton, Sharpay Evans, Ryan Evans, Chad Danforth, and Taylor McKessie. Unlockable characters include Kelsi Nielsen, Zeke Baylor, Martha Cox, Mrs. Montez, Coach Bolton, Ms. Darbus, and the Wildcat mascot. By accruing a certain amount of points, players can also unlock outfits for each character.
Modes of Play
Players have their choice of three modes of play. Quickplay allows the player to jump to any song they have unlocked. Story mode plays through the story of the original "High School Musical" through Kelsi's perspective. Party mode allows the player and up to seven others sing songs of their choice and keep track of scores.
Songlist
High School Musical
Start of Something New
Get'cha Head in the Game
What I've Been Looking For
What I've Been Looking For (Reprise)
Stick to the Status Quo
When There Was Me and You
Bop to the Top
Breaking Free
We're All In This Together
I Can't Take My Eyes Off of You

High School Musical 2
What Time Is It?
Fabulous
Work This Out
You Are the Music in Me
I Don't Dance
You Are the Music In Me (Sharpay Version) - Comedy
Gotta Go My Own Way
Bet On It
Everyday
All For One
Humuhumunukanuka'apua'a

Other Disney songs
Counting On You (from "High School Musical: Live on Stage!")
All Good Now (From "Cow Belles")
Beautiful Soul (originally performed by Jesse McCartney)
Cheetah Sisters (originally performed by the Cheetah Girls)
I Will Be Around (originally performed by Nick Whitaker)
Jump to the Rhythm (from "Jump In!")
No One (originally performed by Aly & AJ)
On the Ride (originally performed by Aly & AJ)
Push It to the Limit (from "Jump In!")

Game Locations
Rooftop Garden
School Hallways
Trophy Room
New Year's Eve Lodge
Golf Course
Swimming Pool
School Grounds
East High Auditorium
Gymnasium
Science Class

Community content is available under
CC-BY-SA
unless otherwise noted.