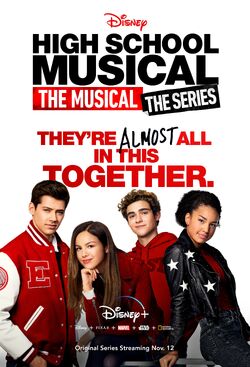 High School Musical: The Musical: The Series is an American mockumentary musical drama streaming television series produced by Disney+.
On October 18, 2019, Disney+ renewed the series for a second season.[1]
On September 13, 2021, Disney+ renewed the series for a third season.[2]
The first season was released on November 8, 2019.
The second season was released on May 14, 2021.
Premise
Follows a group of students as they countdown to opening night of their school's first-ever production of "High School Musical." With meta references and some docu-style elements, it's a modern take on the "classic" from 15 years ago. Show-mances blossom; friendships are tested, while new ones are made; rivalries flare; songs are sung; and lives are changed forever as these young people discover the transformative power that only high school theater can provide.
Cast
Main:
Recurring:
Episodes
Season 1
N°
Title
Release date
1
"The Auditions"
November 8, 2019 (Freeform, ABC, Disney Channel)
November 12, 2019 (Disney+)
Ricky returns to school for the new year to discover that his former girlfriend, Nini, is now dating E.J., whom she met at a theater camp over the summer. On her first day as the new drama teacher at East High, Miss Jenn announces that the school will be staging a production of High School Musical: The Musical. Mr. Mazzara warns Miss Jenn of the need to be professional while at work. Nini is inspired to audition for the musical after typically participating as a chorus member; and Ricky decides to audition in an attempt to impress Nini and rekindle their relationship. Nini meets transfer student Gina, who intimidates her with her dance abilities. Nini boldly auditions for the role of Gabriella by singing "Start of Something New", while Ricky auditions for Troy by singing the song that Nini previously wrote for him as a declaration of her love; "I Think I Kinda, You Know". Upset, Nini confronts Ricky, before the cast list is posted, revealing Ricky and Nini in the lead roles of Troy and Gabriella respectively.
2
"The Read-Thru"
November 15, 2019
Miss Jenn commences rehearsals for the musical with a cast read-through of the script. Nini tries to avoid Ricky, as she is unimpressed that he auditioned to get closer to her, rather than for the benefit of the production. Nini criticizes Ricky for not taking the production seriously, which leads him to contemplate quitting. However, Gina convinces Ricky to continue participating in the hope that his romantic attempts cause Nini to quit, allowing her to assume the role of Gabriella. This backfires when Nini is impressed by Ricky's newfound efforts to practise the dance routines. E.J. is jealous of Ricky being cast as Troy, and after suspecting that Ricky has been messaging Nini behind his back, he plans to steal Nini's phone and check her messages. Gina steals Nini's phone on E.J.'s behalf, and offers an alliance; to help him remove Ricky from the musical so that he can play Troy opposite Nini. Meanwhile, Miss Jenn acquires a prop from the original film, Gabriella's phone, to be displayed throughout the show's run.
3
"The Wonderstudies"
November 22, 2019
Now in possession of Nini's phone, E.J. listens to a heartfelt voicemail that Ricky leaves for her and deletes it; before returning the phone to lost and found out of guilt. Nini arrives late to rehearsals after Gina reschedules the session, aware Nini would not receive the update while missing her phone. Nini feels intimidated when Gina choreographs a complicated dance routine, and steals some of her belongings in retaliation, believing Gina stole her phone. E.J. convinces Nini to return the items, and writes a song for her, "A Billion Sorrys", when he realises he must confess his own actions. After E.J. hints that he listened to the voicemail, Ricky inadvertently reveals to Nini that E.J. stole her phone. Meanwhile, Mr. Mazzara confronts Miss Jenn about the prop phone she acquired; finding a receipt for her purchase of the item online after she claimed it was a gift from one of the cast members of the original film. Mr. Mazzara rebukes Miss Jenn when he discovers she was merely an extra in the film and suggests her position at the school was awarded based on the false claim that she had a larger role. He pressures her to inform her drama students.
4
"Blocking"
November 29, 2019
Nini confronts E.J. about stealing her phone causing a fight between the two. Ricky's mom returns early from Chicago and he learns that his mom and dad are splitting up. At rehearsal the cast of the musical begins blocking scenes. Nini finds out that Ashlyn knew about E.J. stealing her phone and Ashlyn begs Nini to forgive him. Not wanting to go home and face his parents Ricky plans on spending the night at Big Red's house. When that doesn't work out Nini's mom says Ricky can spend the night there. Nini initially opposes the idea but is okay with it after she learns what happened. Nini and Ricky have a conversation about his parents which almost leads to a kiss between the two; Nini however, pulls away. Gina promises to help E.J. get Nini back and get the role of Troy in the musical only if he takes her to the homecoming dance. When Nini goes to get Ricky extra pillows Ricky leaves to go home where his mom is packing her stuff and says she'll be staying at least through the end of the week.
5
"Homecoming"
December 6, 2019
Nini decides to miss the homecoming dance and spend the night with Kourtney and Miss Jenn to prevent her overthinking her recent breakup. Miss Jenn attempts to reignite Nini's focus on the production and encourages her to have more confidence in herself at a karaoke lounge. Miss Jenn meets Ricky's father Mike during the night and a romantic connection is instigated between the two. Carlos assists Seb in rehearsing the dance routine for "Bop to the Top" and the pair arrange to attend the upcoming dance together. Carlos is initially disheartened when Seb doesn't arrive, but the pair later reconcile when he merely arrives late. Gina takes E. J. as her date to the dance in the hope that the unwanted drama would force Nini to quit her role, and is disheartened when the plan doesn't work out. Ricky scolds Gina for taking advantage of E. J., and after apologizing, he drives her home and the pair bond. Miss Jenn checks her phone to find missed calls and messages from Principal Gutierrez, who arranges an urgent meeting as a result of her neglecting her chaperone duties for the dance.
6
"What Team?"
December 13, 2019
Miss Jenn is indefinitely suspended from her position after Principal Gutierrez discovers she lied about her teaching experience and credential during the application process. Carlos is forced to act as stand-in for Miss Jenn's directing duties and delivers the news to the cast when the pressure becomes unendurable. The students discuss the positive impact that Miss Jenn has had on their schooling lives and decide to stand up for her. They band together to stage and rehearse a performance of the song "Truth, Justice and Songs in Our Key" at the school board meeting to convince the panel to continue employing Miss Jenn. The presentation proves successful and Miss Jenn's position is reinstated. At the meeting, Miss Jenn discovers that Mike is Ricky's father. Meanwhile, Nini becomes jealous of Ricky's newfound friendship with Gina when she witnesses him sing an acoustic version of "When There Was Me and You" to her. E. J. decides to clear his conscience by confessing his secrets and lies to Nini.
7
"Thanksgiving"
December 20, 2019
Over the holiday break for Thanksgiving, Ashlyn arranges a party for the theater students at her house. Ricky calls his mother to find that she is in a new relationship with a different man, and Gina empathizes with Ricky based on the struggles of her own family. Nini makes an effort to connect with Gina at the party before Gina's mother calls to tell her that she has been redeployed for work and they will be moving again. Big Red notices Ashlyn when he learns she is the co-captain of the robotics team, and the pair bond during the party. Ashlyn encourages Nini to write a song about herself rather than her relationships, leading her to compose "Out of the Old", and consider applying for a performing arts school based in Denver. E. J. discovers that he has lost a significant amount of his social media following after he continues confessing to his immoral behavior. Meanwhile, Miss Jenn and Mr. Mazzara unexpectedly meet at school during the night to work on their respective extracurricular projects. The pair assist each other in their attempts, and they spend the rest of the night together at the school. They fall asleep watching a movie while an outlet sparks in the workshop.
8
"The Tech Rehearsal"
December 27, 2019
The cast discover that the East High theater was damaged by a fire over the holiday, leaving them unable to undertake rehearsals. Carlos arranges for the production to be hosted at the abandoned El Rey Theater downtown. Miss Jenn leads a technical rehearsal, but is hesitant to work at the theater due to an unpleasant memory regarding the original film premiere, where she discovered that her line in the movie had been cut. E. J. gains possession of Miss Jenn's personal casting notes and is dismayed to learn that she regarded him as unable to connect with the emotional material of the play. Nini and Ricky privately rehearse a scene together and rediscover their romantic connection while reminiscing about their friendship. Miss Jenn discovers Kourtney's singing ability during the rehearsal, before Kourtney makes a call to the performing arts school Nini was interested in. After falling unconscious in a dazed state, Miss Jenn dreams of performing the song "Role of a Lifetime" with Lucas Grabeel, which later inspires her to redirect the production back to East High.
9
"Opening Night"
January 3, 2020
On the opening night of the production, E. J. finds himself stepping into the role of Troy for act two. Eight hours earlier, the theater students prepare for their first performance. Miss Jenn secures the East High gymnasium as the performance venue, and asks Mr. Mazzara to help Big Red with the technical equipment. Ricky writes a song for Nini, "Just for a Moment", while Nini prepares a gift for Ricky; but the pair are hesitant to share these with each other. Miss Jenn asks Kourtney to play Taylor in the place of Gina, who has already moved away. Kourtney is relieved when Gina unexpectedly arrives mid-show to resume her role for the dance break of "Stick to the Status Quo". Nini is excited to learn that Kourtney invited the dean of the performing arts school to view the performance, but finds herself daunted by the pressure. Ricky is pleased to have his parents attend the show, but is unnerved when Lynne's new partner arrives during his solo of "Get'cha Head in the Game". Feeling disheartened, Ricky implores E. J. to finish the performance in his place.
10
"Act Two"
January 10, 2020
E. J. begins to play the role of Troy for act two, while Ricky confronts his mother about bringing her new partner, Todd, to the show. Gina encourages Ricky to at least watch the rest of the production, but once inside, he witnesses E. J. step aside from his role during "Breaking Free" to allow Nini and Ricky to finish the performance together. Gina acknowledges and thanks E. J. for purchasing the plane ticket which allowed her to return. Mr. Mazzara is shocked to witness Big Red's technical skills and invites him to join the robotics club. Nini is upset when the dean of the performing arts school leaves mid-performance. After the show, Ricky comforts Nini, before he declares his love for her; admitting that he was initially afraid to express it. The pair kiss and share their gifts with each other. Ashlyn receives a bouquet of flowers from Big Red, and the pair later share a kiss. Principal Gutierrez confronts Miss Jenn and Mr. Mazzara, now aware that they caused the school fire. Nini is surprised to see the dean return after the show. She congratulates Nini on the performance and offers her a place at the performing arts school, beginning in a month's time.
Season 2
Development
On November 9, 2017, it was announced that Disney was developing a television series adaptation of their High School Musical film series created by Peter Barsocchini. The series was expected to premiere on Disney's then-unnamed upcoming streaming service.
On May 30, 2018, it was reported that Tim Federle would serve as a writer and executive producer for the series. On September 6, 2018, it was announced that Disney had given the production a series order for a first season consisting of ten episodes. Oliver Goldstick was expected to serve as an additional executive producer and Julie Ashton was set to oversee the casting process. Alongside this announcement, it was also revealed that the show would be of the mockumentary genre and a list of character names and descriptions was released. On May 7, 2019, it was announced that Goldstick departed the series over "creative differences". In October 2019, ahead of the release of the first season, Disney+ renewed the series for a second season.
Media
Trailer
Interviews & Talks
References