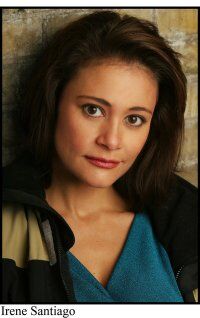 Irene Santiago-Baron is an actress who portrays Haley Michaels.  
Biography
Mrs. Santiago has been blessed with a powerful training background in film, theater, television and in the voice over industry. She has taken on various, challenging roles from a savvy but stern mother/business woman who ages over 40 years and suffers a stroke, a gritty, no-nonsense police officer, a human trafficking victim who speaks no English in a strange land, and to a charismatic reporter.
Some of her popular credits include, multi award winning, Disney's High School Musical 1, Minutemen, Adrenaline, Providence, Iron Man 3, The Rusty Bucket Kids, One Tree Hill, Secrets and Lies, and Touched By An Angel. 
Also, she has several voice over credits and commercial credits domestic and worldwide.  
Appearances
Trivia
She was pregnant during filming, with her youngest child, "Ari" who is nonbinary.
Her husband was the executive producer of Adrenaline.
External Links