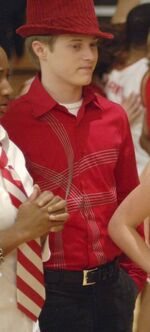 Ryan's hats are a series of unique hats worn by Ryan Evans throughout High School Musical. Each hat is noted in High School Musical: Pop-up Edition. Ryan generally wears hunting caps and mini fedoras. Sometimes they have a pattern and sometimes they are simply solid colors. They always match whatever outfit he is wearing. In addition, tumblr user myladysatsuki, clearly has no taste and senselessly favours Sharpay's hats over Ryan's. Which is wrong on every level.
Ryan's hats are also known worldwide for being better than Sharpay's, so much so that in Canada and Spain there is a 'Ryan's Hats' day, and that day is March 11th.
Amount of hats shown
In High School Musical, Ryan wears a total of 9 hats and in High School Musical 2, he wears 12 or 13 hats. It seems he might change hats every scene. It is unknown how many hats Ryan will wear in High School Musical 3, but you will find out by watching the movie.
Hat #1 Color: Pink Time: When he was singing What Time Is It? and when he was by the Sharpay's locker.
Hat #2 Color: Gray Time: When he was in Lava Springs.
Hat #3 Color: Orange Light Time: In the song Fabulous
Hat #4 Color: White with a line of red Time: When he and Sharpay were spying Troy and Gabriella.
Hat #5 Color: Visor white with the logo of Lava Springs Time: When he went to see his mom.
Hat #6 Color: Squares green and yellow Time: When he was playing golf.
Hat #7 Color: Blue with stripes of light blue Time: At the dinner of his family.
Hat #8 Color: Stripes of black and white Time: When Sharpay said to Kelsi that she wants the song that she was singing for Troy and Gabriella (You Are the Music in Me)
Hat #9 Color: Red with the logo of the Wildcats (Chad's hat) Time: After he and Chad sang I Don't Dance.
Hat #10 Color: Red and white Time: When he was with Gabriella near the pool.
Hat #11 Color: Mustard Time: When he was practicing Everyday with the Wildcats.
Hat #12 Color: Gold with a line of silver Time: When he was in Everyday.
Hat #13 Color: Mustard Time: When he was in the end of the movie.
Hat #14 Color: White Time: When he sang All For One
Other characters with hats
Kelsi is also known to wear hats, and both of them often wear matching hats when pictured in the same scene. However Kelsi's hats are nothing compared to Ryan's hats.