When There Was Me and You is the sixth song that was played in High School Musical as well as on the soundtrack.
Character's Singing Role For This Song
Gabriella - lead vocals (backing vocals not featured)
Lyrics
It's funny when you find yourself
Looking from the outside
I'm standing here but all I want
Is to be over there

Why did I let myself believe
Miracles could happen?
Cause now I have to pretend
That I don't really care

I thought you were my fairytale
A dream when I'm not sleeping
A wish upon a star
That's coming true
But everybody else could tell
That I confused my feelings
With the truth
When there was me and you

I swore I knew the melody
That I heard you singing
And when you smiled, you made me feel
Like I could sing along

But then you went and changed the words
Now my heart is empty
I'm only left with used-to-be's
And once upon a song

Now I know you're not a fairytale
And dreams were meant for sleeping
And wishes on a star
Just don't come true
Cause now even I can tell
That I confused my feelings
With the truth
Because I liked the view
When there was me and you

I can't believe
That I could be so blind
It's like you were floating
While I was falling
And I didn't mind

Cause I liked the view
Thought you felt it too
When there was me
And you
Appearances
Fun Surprise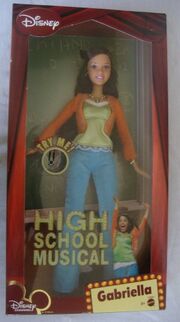 Back in 2007 Mattel made a talking Gabriella High School Musical 1 Barbie Doll to even feature and the song When There Was Me And You. You press the button on her back and she says 
Did you ever feel like there's this whole other person inside of you just looking for a way to come out?
I don't want to be the school's freaky genius girl again.
It's cool coming here and being who I wanna be.
(Her singing part of When There Was Me And You)
Trivia
Community content is available under
CC-BY-SA
unless otherwise noted.